The site has many neat additions that will help you post your finds whether it is a pic or a vid. just look to these boxes to do so..
There are two ways to post..
1st is with the site's image hosting.
www.servimg.com.
To get your image hosted, click where the Red Arrow is pointing on your page( for this post I will call it The Image Host'r button)...
be sure to check which size you want to use. The Resize Image drop down will have no resize, large, etc, etc.
then either "Choose File" to get one off your computer or URL off the net.
Once you have a pic selected then hit "Host It".. ( THIS IS JUST LIKE Imgur, photobucket, or any of the other image host'rs.) but with this site you don't have to bounce back and forth!

Once you click "Host it" it will load and give you three options: 1. Thumbnail, 2. a quick link(with preview) to
www.servimg.com
or image, and 3. just the image itself/image url. Each option you can select and copy.
In this instance, 1st, I selected and copied the last selection. Then I clicked UPLOAD. The Image host'r will remain open so click the Image host'r button to close it.
Then hit the next button(which looks like a photo) which is the second icon in the line, it is where you will paste the selection you made mentioned a few lines above..

The
www.servimg.com
will use the email you used to sign up with this Forum as the email for it's contact. Once you upload an image thru the image host'r, you will receive and email from servimg that you have an account.

For YouTube, etc click the 5th icon(looks like a film) you will get this....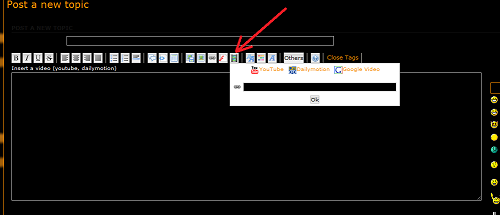 If you already have your YouTube video's address just paste it and hit ok, if not hit the YouTube button and it will create popup windwo to youtube. Find your video then copy the url of the video, close the popped up window and paste your copied url into link window and hit ok.. If you have any questions I will try and answer.... If you have input or help please post...
_________________
XP Deus
Minelab E-Trac
Garrett AT Gold
Garrett AT Pro
Click the Links below for Connections to
Gonehunting For History
My personal sites

Gonehunting For History YouTube Channel
My Personal Blog
Follow Me on Twiiter


Similar topics
---
Permissions in this forum:
You
cannot
reply to topics in this forum